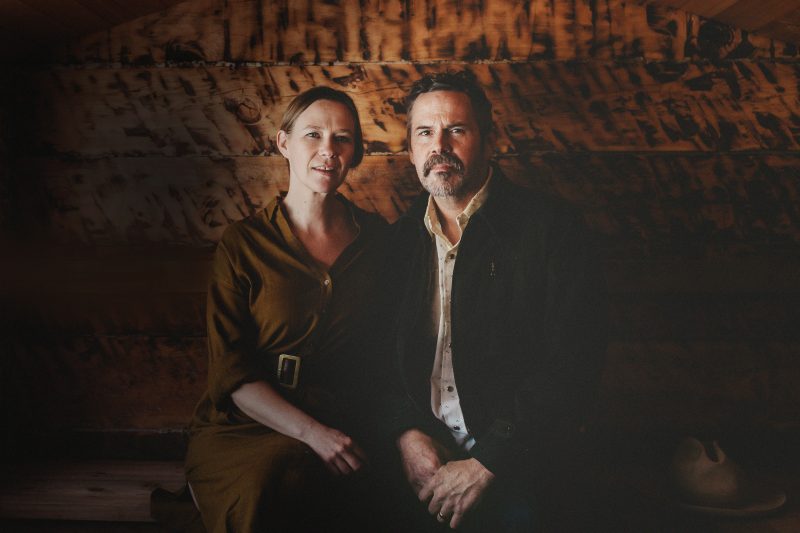 Pharis and Jason Romero are pure craftspeople ……. top-notch instrumentalists, striking singers and compelling songwriters. They've won three Juno awards and seven Canadian Folk Music Awards, connecting with audiences through their music, lifestyle, and the sense of joy and laughter from this small-town renaissance couple. They live in the wilderness town of Horsefly, British Columbia where they write songs, study old music, and work as renowned banjo builders J. Romero Banjos.
Their newest record Tell 'Em You Were Gold was released on venerable folk label Smithsonian Folkways Recordings in June 2022. Made in an old barn Pharis & Jason spent years slowly restoring, and recorded in six days by a wood stove under northern lights, it's a testament to the musical value and significance of their work. It's built around the beauty of their banjos and the pair's deep psychic and artistic connection, with conviction and delicacy – and stunning singing. They play their own songs with the traditional music they have always sung, weaving guests John Reischman, Grace Forrest, Trent Freeman, Patrick Metzger and Marc Jenkins on mandolin, fiddle, bass and pedal steel between the duo and solo pieces. Their songs seem to come from easy and honest places about traveling, rural life, and mountain air, but in their spaciousness they are deeply moving, giving each listener room for a unique and personal experience. There's time to become absorbed in Jason's solo banjo meditations, to move with the deep pulse of their guitar playing, to reflect on life's beauty and knottiness, and to let the songs lift you into a state of well-being. They frequently bring out a desire to play banjo, to sing with another person, and to dig up the oldest, scratchiest record you can find and write a song just like it
Pharis and Jason Romero are a sentimental anchoring, and an antidote to this sped-up life. A study in complimentary personalities – shining and story-worn with gently weathered – they sing of life and love, painting a quietly show-stopping picture of simple times.
They've released seven records, won seven Canadian Folk Music Awards, three Juno Awards plus are nominated for their 2022 release as well, and toured from Celtic Connections to A Prairie Home Companion. They choose the unconventional – building banjos, recording at home, spending less time on the road – and they live and sing about those choices with vibrancy and a powerhouse set of skills.
Download promo photos
To download the full-size image, right-click / Save Link As OR click on the image and in the floating window that opens, right-click / Save Image As.