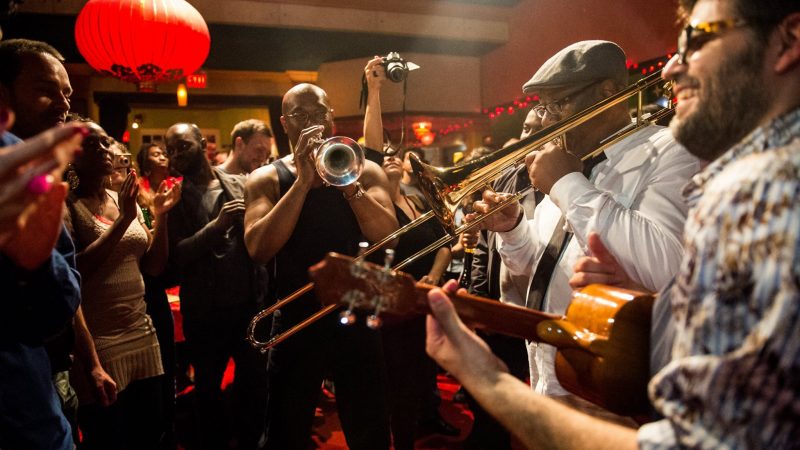 Named after the storied district in Port-of-Spain, Trinidad, where calypso was born, Kobo Town has been described as "an intoxicating blend of lilting calypsonian wit, dancehall reggae and trombone-heavy brass" (Guardian) and a "unique, transnational composite of rhythm, poetry and activist journalism."(Exclaim!)  Since their founding in 2005, the group has brought their distinct calypso and ska-inspired sound to audiences across the world.
The band is fronted by Drew Gonsalves, who moved from Trinidad to Canada as a teenager and who rediscovered in his new home the joys of old calypso, ska and roots reggae through old records found in the bargain bins of used music stores.   A songwriter, singer and multi-instrumentalist, his music has been covered by many other artists including Carlos Santana, Manu Chao and Calypso Rose.  At once brooding and joyous, intensely poetic and highly danceable, Kobo Town's songs are rooted in the Caribbean's rich tradition of musical storytelling, and delivered with an indomitable energy that has had audiences jumping from Montreal to Malaysia and from Havana to Berlin.  To date, the group has released 3 albums – their debut breakout Independence, the chart-topping Jumbie in the Jukebox, and the Juno Award-winning Where The Galleon Sank – and are set to release their fourth offering, Carnival of the Ghosts, in Spring 2022.  Once again, they are working with Montreal-based Stonetree Records and Ivan Duran, the maverick Belizean producer who has done more than anyone to capture and reimagine the lost sounds of the Caribbean and bring them to the wider world.
Inspired by the vision of an old fiddler playing a rousing set of tunes to an indifferent audience on the subway, Carnival of the Ghosts is an eclectic set of songs – ranging from whimsical stories about meeting spirits of long-dead celebrities to philosophical reflections on the brevity of life to social commentaries on our pervasive cancel culture.  While the group's previous albums have been inspired by the often-tragic history of the Caribbean, this album casts its gaze on the wider human condition, poking at the quirks and foibles, vices and virtues that are found in every place and time.  Musically, the album is a virtual everything-soup of Caribbean sounds, where calypso melodies and ska-driven horn hooks collide over heavy reggae and soca bass grooves, all amid an interplay of dirty electric guitars with hints of zouk and son montuno.  In this way, Carnival of the Ghosts is both an extension and continuation of Kobo Town's reverent yet playful approach to their musical heritage, which is always firmly rooted yet always reaching beyond.
Download promo photos
To download the full-size image, right-click / Save Link As OR click on the image and in the floating window that opens, right-click / Save Image As.