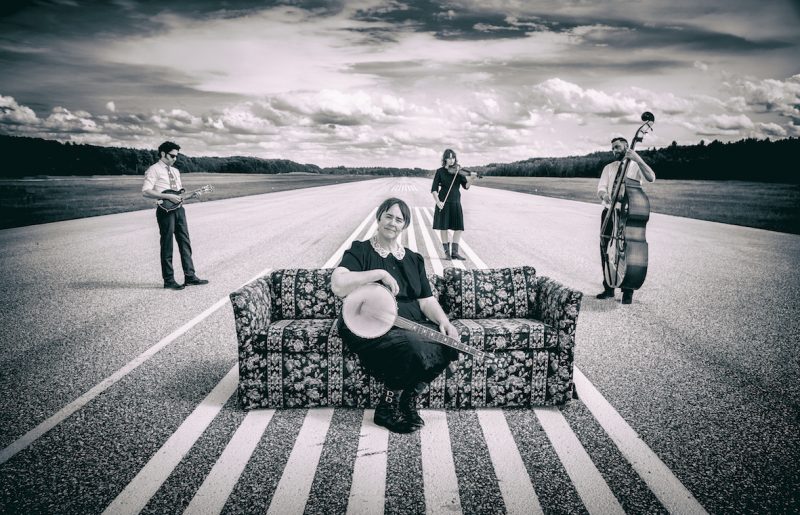 Annie Lou is the stage name of Anne Louise Genest, a songwriter, composer, and performer with a deeply-felt connection to older folk music traditions. With guitar and banjo in hand, she has spent years chronicling the rural and urban lifepaths of Canada, writing songs to tell the tales of the hard-hit, hard-won victories of these everymen and women. This is new music that is relevant to a modern audience but rooted in the musical traditions that grew out of communities where there was little separation between performer and audience – where everyone played something, or danced – and where music was clearly connected to the everyday lives of the people who played it.
Annie Lou's beautifully creative songs and tunes range from rousing and boisterous to gentle and poignant, and map a homescape of hard-drinking grandmas, rural dancehalls, blue collar fashions, small towns, big cities. All of this is delivered with Genest's vocal warmth, evocative of the sweet tones of Kate and Anna McGarrigle blended with the raw emotion of Hazel Dickens.
Surrounding herself with some of Canada's best acoustic musicians, she has released three albums as Annie Lou, and toured major festivals and venues across the country. She has been nominated for a Juno, as well as several Canadian Folk Music and Western Canadian Music awards. Her much anticipated fourth release, End Zone, is set to hit the airwaves in late fall of 2017.
Workshops
Anne Louise is becoming known as a skilled instructor of vocals, guitar, songwriting, and clawhammer banjo, and she and her bandmates regularly teach at several music workshops across the country. She is also a fine caller of southern style square dances, and when touring with her band will often add square dancing to the program! Good times are had by all, and not a toe goes untapped.
Download promo photos
To download the full-size image, right-click / Save Link As OR click on the image and in the floating window that opens, right-click / Save Image As.
Availability
Artist scheduling details to come shortly – please get in touch for more info.